Hashtags
Hashtags are very important at some of the social networks including Instagram. Relevant tags help users find your product easily and appear more frequently in search. Tags should be relevant and sometimes witty or funny.
Some of the stores allow retailers to add hashtags to a product or an entire category and sometimes on your entire store. Outfy picks them from your store and use them in the captions of your posts.
In addition to that, Outfy allows you to create your own set of hashtags at Outfy. These tags can be used in your posts along with your existing product tags. You can use your hashtags entirely from Outfy if your store provider does not allow hashtags.
Currently Outfy does not allow you to define tags on each individual product. The process of defining tags on each product will be cumbersome and not efficient. Outfy rather allows you to create hashtag clouds. Each hashtag cloud should contain similar tags, applicable to a category of products.
You can create as many hashtag clouds as many you want. Make sure you put similar kind of tags in a cloud, which are relevant to a product category.
You can also map your hashtag clouds to your product categories. Outfy will then pick tags from the mapped tag cloud for a category, in which your product is.
Mapping of hashtag clouds is used only in Auto Pilot. For posting using "My Products" or "Planner", the tags from default tag cloud are picked.
You can access and setup your hashtag clouds by click HASHTAGS from your left panel.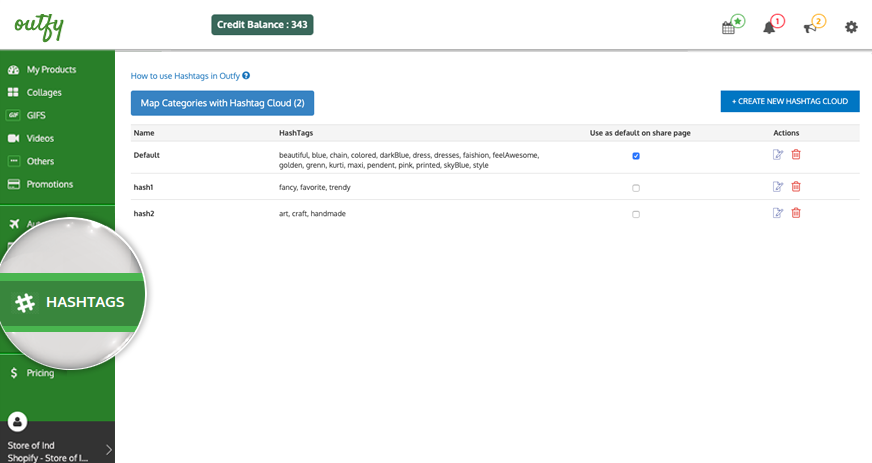 This page gives the list of hashtag clouds you have setup. Against each cloud, there are two buttons and a check box.
Use as default on Share Page check box allows you to select which hashtags will be picked when you share a product from share page or planner. You can have only one cloud as default from your hashtag clouds.
Clicking on edit button opens a new page where you can modify the name of your cloud and also edit your hashtags. You can freely remove or add new hashtags whenever you want. However, the changes will be applicable only to the posts created after you have saved the changes. All posts scheduled earlier will have no effect of it.
Clicking on Delete button will delete your hashtag cloud. All existing scheduled posts will have no impact of deleting the hashtag cloud.
If a hashtag cloud is being used as default or in any of your Auto Pilot task, you will not be able to delete that hashtag cloud until you remove it's default status or remove it from your all auto pilot tasks.
Creating a new Hashtag Cloud
Click on Create new Hashtag Cloud to create a new cloud. It will open a new page to create new cloud.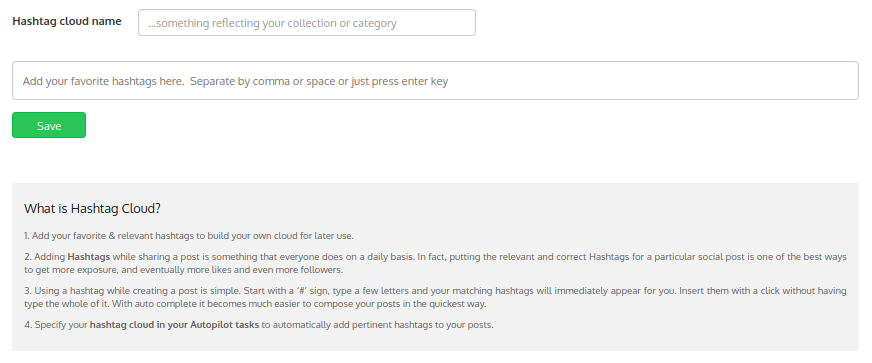 Give it a name as per your choice. Try giving a relevant name. This name appears in the list of hashtag clouds. Give short and smart name.
In the next box, start typing hashtags. Separate them by a space or a comma or press the enter key after each hashtag you type in.
Press Save button when you are done.
Mapping Categories with Cloud
Mapping your hashtag clouds with categories is useful in Auto Pilot. When you map your hashtag clouds with your product categories, you can setup your Auto Pilot task to use that mapping.
In that case, Auto Pilot will determine which tags to be used, based on the product category and the hashtag cloud mapped to that category.
Click on Map Categories with Hashtag Cloud on the list of hashtag clouds. An overlay opens.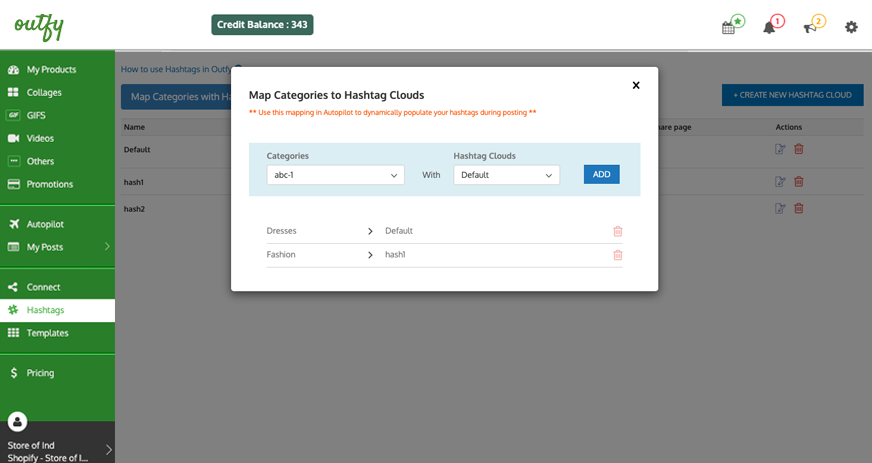 Select a category from the left drop down.
Select the hashtag cloud from the right drop down.
Click on ADD button to map them together.
Give it a second. The list below will be updated with the new mapping.
Click on small close icon on top right to close the overlay.