Autopilot
Autopilot tasks push your products to your connected social media accounts. Make few settings and it will create a daily schedule for you, which you can modify if you do not like what Outfy has setup for you.
Autopilot, Autopilot Tasks and Task mean the same thing in Outfy.
You can create multiple Autopilot tasks which run together and create multiple social media posts for you on a daily basis.
You can create Autopilot tasks based on many criteria. Some of them are following:
A separate task for each social media network
A separate task for a different category of products
A separate task based on the board on Pinterest OR a page on Facebook or a different blog on Tumblr
A separate task based on what time you want to post to your social networks
When you signup for Outfy, one default Autopilot task is always created by Outfy for you with some simple settings. You can modify this Autopilot task or create more or turn-off this default Autopilot task.
An Autopilot task cannot be deleted. However, you can turn it off whenever you want.
Click on Autopilot from your left panel to get going:
The page shows your existing Autopilots. One default Autopilot should be in the list if you haven't created anymore.
On this page, you can change either of your existing Autopilots or create a new one by clicking on "Create New Task" button.
Creating a new task or changing an existing task take you to the same screen.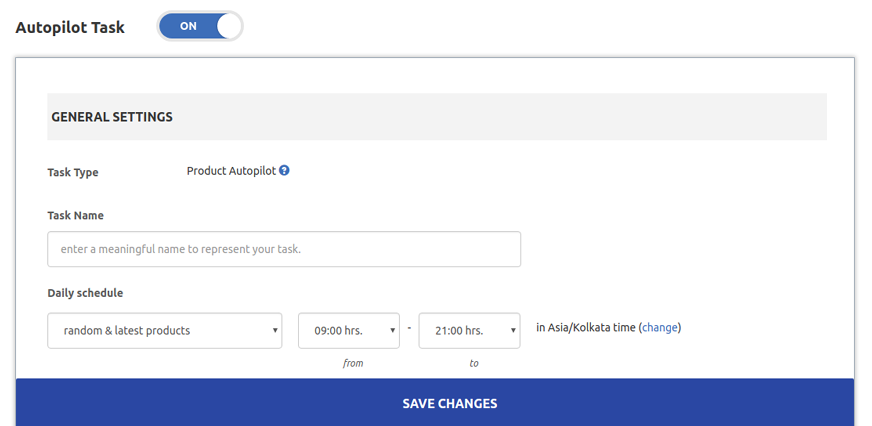 If you are trying to change an OFF Autopilot, all settings are disabled.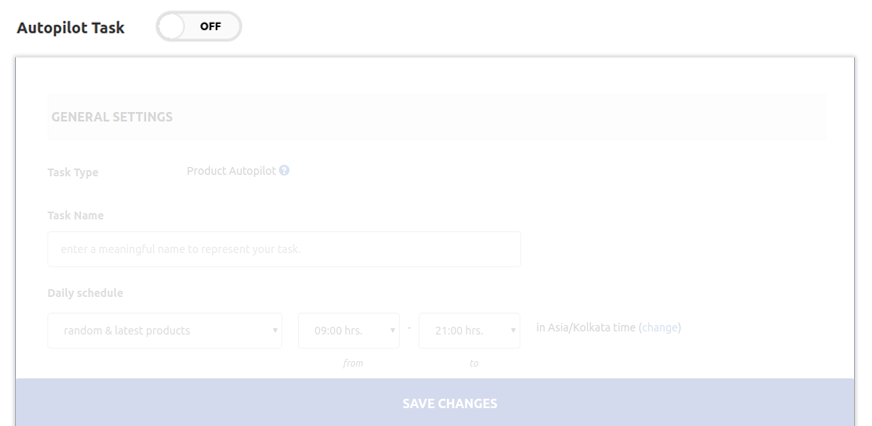 Settings on your Autopilot tasks
The ON/OFF button:
The ON/OFF button is at the top of the settings. Clicking on this button toggles the status of your Autopilot task. It's value shows you the current status of your task. If it is ON, it means that your Autopilot task is ON and clicking on it will turn it OFF. Similarly, if it is OFF, your Autopilot task is currently OFF and clicking on it will turn it ON.
If your Autopilot task is ON, clicking on it will immediately turn it OFF. However, if it is OFF and you turn it ON. You must press the Save button on the page to actually turn it ON.
Task Name
Give a meaningful name to your task. For example:
Morning Autopilot if you are using it to share only in the morning Dresses Task if you are sharing only Dresses from your store Facebook Task if you are using this Autopilot only for Facebook
You can actually give any name. These are just examples. Please do not enter special characters in the name like apostrophe, exclamation, comma, full stop, etc.
Selection of choosing order of products: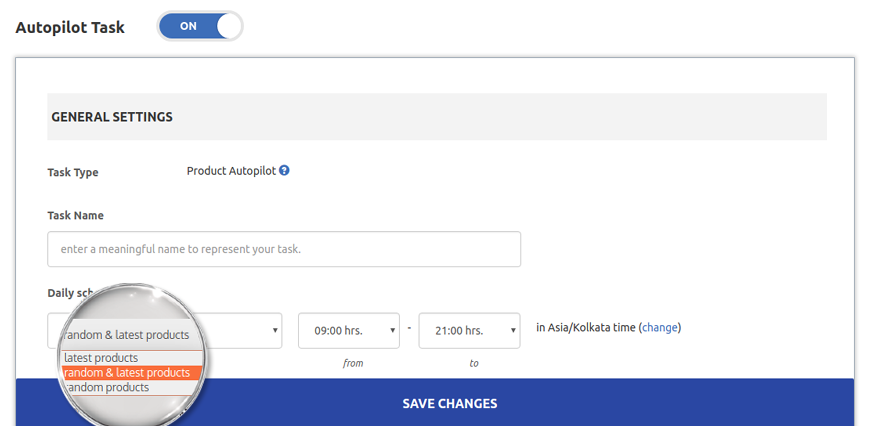 You can tell your Autopilot in which order products are picked by the Autopilot from your store. There is a drop down just below task name. There are three options:
Latest Products - your latest products become the top priority and scheduled in the order they were added to your store by you.
Random & Latest Products - emphasis is given to your latest products of last 5 days. In case you haven't added any new product in last 5 days, all of your products are shuffled and selected randomly for scheduling.
Random Products – Autopilot randomly selects the products from your store and schedule them accordingly.
Timing for postings:
You can specify the time range; between which you want your postings to go to your social media. For example, you can tell Autopilot that post only between 9am to 9pm (which is 21:00 hours in 24 hours format) only. In that case Autopilot will schedule your postings only between 9am to 9pm only.
Outfy shows your default time zone from your profile. You can change the time zone for your postings as well. For example - your time zone is EST-New York but you want your postings to go between 2pm to 4pm of PST – LA time, you can select so.
Between Time works on 24 hours time format. 1pm equals 13:00 hrs and 12am is 24:00 hrs.
Using Template:
Outfy allows you to create caption templates by which you can spice up your post captions or use them to randomize them. Templates user guide is available separately.
In this setting, you can define which caption template you want to use. You can either select a template OR ask Autopilot to choose randomly from your defined caption templates.
Use a particular template if you want all your post templates to have a single type of captions.
Use random templates if you have created more than one template and you want Autopilot to choose randomly among them.
Hashtag Cloud:
Outfy allows you to create multiple hashtag clouds to be used in postings. A hashtag cloud is a group of similar hashtags, which could be related to your product, category or store. There is a separate user guide for how to setup and manage hashtag clouds. In this setting you can tell Autopilot how to use your hashtags.
You can select which hashtag cloud Autopilot will select hashtags to add to your postings. In hashtag clouds, there is a way to map your hashtag clouds with your product categories. You can use that mapping. In this case Autopilot will pick the hashtags from the correct board, based on the category of the product.
If your product is in more than one category, Autopilot can choose the hashtags from any category randomly.
Include Weekends:
If you want Autopilot to schedule postings over week-ends as well, turn ON this button. Otherwise, turn this OFF.
Categories:
You can decide what products you want Autopilot to pick for posting on social networks. You can select these products via product categories. Autopilot allows you to select a single or multiple product categories from which the products will be posted on your social networks.
Networks:
In this section, you will see all your connected networks with Outfy. You can decide what network you want to Autopilot to post your products to.
There is an ON/OFF button for each network. If you turn a network OFF, Autopilot will not push your products on that network.
You must have at least one network turned ON for Autopilot to work.
For each network, you can setup the time gap between two posts. This setting can be different for each network. Outfy has designed it based on the guidelines from social networks. If you try to post too frequently, you get the risk of being marked as spammer and social network can block your account.
Choose wisely the time gap between two posts. Do not spam your followers.
You can setup different time gap for each of your connected social networks.
The time gap works in tandem with between time frame you have setup earlier on top of the page. Here are few examples to show how it works.
Examples:
Example -1: Time between 9:00 hrs to 21:00 hrs with a post on Pinterest every 1 hour:
Autopilot will create 12 posts on Pinterest from 9am to 9pm.
Example -2: Time between 9:00 hrs to 12:00 hrs with a post on Pinterest 2 hour:
Autopilot will create 2 posts on Pinterest, one at 9am and other at 11am.
Example -3: Time between 9:00 hrs to 12:00 hrs with a post on Pinterest 3 hour:
Autopilot will create 2 posts on Pinterest, one at 9am and other at 12pm.
Example -4: Time between 9:00 hrs to 12:00 hrs with a post on Pinterest 4 hour:
Autopilot will create only one post on Pinterest any time between 9am to 12pm, usually exactly at 9am.
Though the times selected here are rounded times, Outfy adds or removes between 5-15 from exact rounded hour so that social networks do not treat them as spam or automated. For example, a post which is supposed to go exactly at 9am, may actually be setup anytime between 8:50 to 9:10am.
Additional Settings on Networks:
By clicking on three small dots (…) on each network setting, you can further decide the network specific settings.
For example, on Tumblr, if you are having more than one blog, you can decide which blog should receive the postings from this Autopilot.
Or on Pinterest, you can decide which board should receive the posts. Or you can separately map your categories with boards and use that mapping in the Autopilot.
For mapping of your pinterest boards with your product categories, go to you connect page from left panel. Click on Pinterest and there will be a link to map your boards with your categories. Map them and use that mapping in Autopilot.
These settings are available for most of the social networks, wherever applicable.
Allow Reposting:
Autopilot keeps on taking your products as per your settings and creates a daily schedule for you. At one point of time, all your products would have gone to your social networks. Allow Reposting allows you to decide whether you want Autopilot to stop or start repeating the products which have already been posted.
If you turn this ON and all your products have been posted, Autopilot intelligently reusing your products for new posts. It selects the products in round-robin fashion, meaning that the product which has been posted first, will be posted first again. So that the time gap between two postings of same products is maximum.